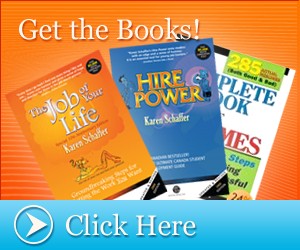 Karen Schaffer (that's me) is a Career Coach and Counsellor who can help you find your direction, path and purpose. I've spent over fifteen years working with people on finding out "Who Am I?" "What do I really want?" "What's next for me?" and providing new measures and goals in this process.


My 4 "P"s To Career Exploration
Peace:
To change distress into de-stress...by normalizing your feelings and expectations, validating your fears and concerns, encouraging you to listen to what you already know and work from there and to open your heart and mind to the present moment.


Passion:
Finding direction by using your own interests and natural energy to self direct your search. Looking for the moments you "light up" and feel alive to show us the way to your deepest desires.
Play:

It's easy to be serious and significant about "Career" but this attitude constricts creativity, openness and the intuitive leaps which lead to the real career breakthroughs. Learn to laugh, play, create, brainstorm, blue-sky, dream and doodle your way to a new career path.


Purpose:

Always in the background, learning to guide yourself to a meaningful existence by contributing your most core skills and abilities to the world of work. There is a contribution you want to make - let's find out what it is! To paraphrase Deepak Chopra, I want to support you in finding your unique gifts and serve the world with them.