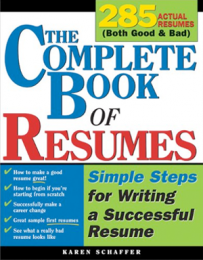 "THE COMPLETE BOOK OF RESUMES"
Ever wondered what really makes a resume get someone's attention?
I've put this book together to contain the secrets and subtleties to writing a powerful and effective resume. The years I've spent in the company of recruiters and hirers and all their preferences are contained in this book.
As best I can tell, it is currently available in bookstores in the United States like Borders and Barnes and Nobles, and is available online in Canada and at some libraries (apparently it's available at the library in McAdam, New Brunswick so if you live in the small town of McAdam - you're in luck!).
Do me a favour and tell ChaptersIndigo you're looking for it if you go into their stores. Or if you've read it, post a (positive!) review online.
Here's one I recieved recently from the San Francisco area.
Ms. Schaffer,
I just read portions of your book The Complete Book of Resumes and was impressed by its clarity and no-nonsense approach. I have toyed with the idea of hiring a career coach, but have resisted so far. When I read your book I realized that if I could find someone with your approach my resistance would fade. Thanks in advance for your time and your well-written and produced book.
Jonathan K.
Thanks Jonathan...good luck on your career exploration!
For a table of contents list, click "read more".
The book takes you through creating a resume chapter by chapter and step by step including tips on submitting resumes online. There is also a whole chapter on resumes for Career Transition - one of the trickiest kinds of resumes to write.
But wait there's more! The Resume Index is comprised of 285 resume examples from a wide variety of industries, fields, roles and levels from recent grads to senior executives. It's seriously exhausting how many resumes there are. Atleast, it was exhausting for me to compile! But for you it means lots of different examples to look at and explore. And though it seems tiny compared to the vast resumes, the chapters are chock full of essential vitamins and information that will help you write a wickedly good resume. It's especially good for career transition resume writers.
Table of Contents
Chapter 1 - How to Get Started
Chapter 2 - The Must Haves and the Do Not Dos
Chapter 3 - Writing Your Profile
Chapter 4 - Presenting Your Work Experience
Chapter 5 - The Best of the Rest (from Education to Personal Interests)
Chapter 6 - The Targeted Resume
Chapter 7 - The Career Transtion Resume
Chapter 8 - The Ins and Outs of Submitting Your Resume
Great Big Index of Resumes - 285 Resume Examples of All Kinds
Appendix - The Crucial Questions for Uncovering Your Experience
Back to Books list