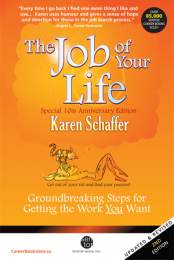 THE JOB OF YOUR LIFE: FOUR GROUNDBREAKING STEPS FOR GETTING THE WORK YOU WANT
"Just wanted to let you know that I wrote a cover letter right after reading your amazing book, and the letter got a great reaction. The owner of the HR firm responsible for setting up interviews for the position loved the letter and said she rarely sees a cover letter that is so genuine. I gave credit where it was due and told her about your book. I've read many career books and yours instantly made my top 3 all time list! Keep up the good work!" Tim Paquette,
"I am in the throws of changing careers or rather charting a new life work path, I found your book [The Job of Your Life] the most down to earth, enlightening and helpful and I have read many, many books on this topic." Cindy Jones
"Hi Karen, Your book is excellent - I'm only on page 58 and have had so many 'gotcha's' that I've filled two very large napkins with notes - both sides. Your approach has made this so possible for me without the dread of getting mired in the muck…I'm very much looking forward to your next book!" Nellika Richardson
"I'm down to the last few chapters of your book, "The Job of Your Life" and I want to know one thing. What are you doing in my head??? The book sounds like it was written especially for me." Rita Guishard
"My husband and I are both reading your book, which we are enjoying immensely, and I would like to pass it along to my brother in Vancouver…" Christine Hill
***
These are just a few of the really nice things people have written to me about this book. I wrote the majority of "The Job of Your Life" in one month and it was one of the best months of my life. I was completely present to the material and it flowed out of me every day.
My aim with this book was to get under some of the more subtle psychological blocks we put up to finding the work we love. One of the big breakthroughs was to realize that "work" and "job" are not the same thing. A job is just a set of responsibilities and a paycheck. The work is what you bring to it. Therefore, it is ourselves well matched with our passions and interests which truly create passionate work.
I hope to re-publish this book in future. If you are interested in knowing when that would be available, please email me so I can notify you. In the meantime, check your local library if you're in Canada or try
www.abebooks.com
(or another online reseller) to see if you can get one used (at last check someone was selling it in Australia..now that would be story to find out how it got there!).
Thanks to all who have contacted me about how "The Job of Your Life" made a difference for you. It made a difference for me to know it.
Back to Books list