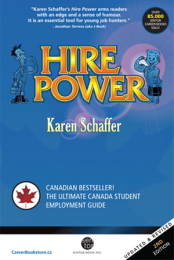 HIRE POWER: The Ultimate job Guide for Young Canadians
Hey there child prodigies...this book is not for you. This book is for the rest of us...students looking for their first job or a better job who want an edge.
My first book! A real joy and pain to write (as I suppose all first books must be) I learned so many things along the way. Since this book was researched and written when I was a student (and working, I might add, at a video store - take that Tarantino!) I was pretty in tune with what it was like out there. I tried to keep the tone fun and interesting. At the time, there weren't many job search books for students and most job search books had a wagging finger tone to them.
I have always felt, as in the words of my good friend and first editor "If it's boring for you to write Schaffer, it's boring for them to read". It's a motto I try and live by in my writing. Anyway, point is, I was aiming for good times on a pretty dull and scary subject matter.
While the book appeals to high school students mostly, the breakdown of how to write a resume and a cover letter is pretty clear and I've had adults tell me they've used it for their own searches.
Back to Books list